Historic Achievement for Sikhs in the U.S. Marine Corps: On August 11, the Sikh Coalition congratulated our client, U.S. Marine Corps (USMC) Private First Class (PFC) Jaskirat Singh, on his graduation from Marine Corps Recruit Training. PFC Singh completed Recruit Training with a historic accommodation that allowed him to maintain his Sikh articles of faith throughout his time there. He is represented by the Sikh Coalition, Winston & Strawn, the Becket Fund for Religious Liberty, and BakerHostetler, with support from the Sikh American Veterans Alliance (SAVA).
In November 2021, the Sikh Coalition, SAVA, and our legal partners assisted Jaskirat in submitting a request for an accommodation to serve with his articles of faith. In February of 2022, he was offered an incomplete and insufficient accommodation by the USMC, including a provision that would require him to sacrifice his turban and beard while at Recruit Training. We ultimately secured a ruling from the District of Columbia Circuit Court of Appeals allowing Jaskirat to attend Recruit Training with his articles of faith. The larger lawsuit pertaining to accommodations in the USMC remains ongoing; we look forward to providing further updates on the case as it moves forward.
Connecting with the Virginia Sangat: On August 19, senior members of the Sikh Coalition joined sangat members in Virginia for an evening of conversation about our work where we were graciously hosted by the Sidhu family. Then, on August 20, our staff split into two groups to visit two Virginia gurdwaras: the Sikh Gurdwara of Richmond in Richmond, VA, and the Sikh Foundation of Virginia in Fairfax, VA. At both gurdwaras, we discussed our recent historic victory to ensure Sikh inclusion in Virginia's state standards and workshopped what parents and students can now do to ensure Sikhi is included in classrooms throughout the commonwealth.
Premiere of Sikh Student-Led Documentary on Afghan Refugees: On August 15, at the Parliament of the World's Religions, the Sikh Coalition was proud to join a screening of Niskham TV's latest documentary project: Baywatana: 'Without a Home.' The documentary was produced by the Sikh youth of Nishkam TV, including Aekem Singh, Jaskeerat Singh, Sahej Singh, Tanisha Kaur Kapoor, Suner Kaur Chopra, and Jasratan Chopra, all working under the guidance of Emmy Award-winning producer and director Harbaldeep Singh. It focuses on the journeys of religious minorities who have fled Afghanistan due to recent violence and political upheaval. Drawn from 175 hours of interview footage shot in the United States, United Kingdom, Canada, and India, Baywatana follows the stories of multiple families that are attempting to build new lives for themselves after experiencing discrimination, persecution, and violence in their home country.
Sikh Coalition at the Parliament of the World Religions: In addition to supporting the premiere of Baywatana, the Sikh Coalition was active in other sessions at the Parliament of World Religions. Senior Community Development Manager Sahej Preet Singh spoke at two additional panels: Afghani Sikhs and Other Minorities: Their Exodus in Their Own Words and another Global Sikh Meet: Showcasing Institutions Working for the Charhdi Kala of the Panth. Additionally, the Sikh Coalition was glad to facilitate a kirpan training by our Legal Director, Amrith Kaur Aakre, for security staff at McCormick Place, where the Parliament was held.
Sikh Coalition Instagram Live with the Team behind FROM HERE: On August 15, the Sikh Coalition was honored to host an Instagram Live with the team and collaborators behind the documentary FROM HERE, a powerful documentary that follows four activists and artists from immigrant families, including former Sikh Coalition community organizer Sonny Singh, and their coming of age in an era of rising xenophobia. We discussed the importance of Sikhs representation in the media with panelists including Sonny Singh, FROM HERE Director Christina Antonakos-Wallace, and FROM HERE Executive Producer Chris Hastings. The documentary is currently available to view on PBS.
Hate Crime Commission in Maryland: On August 3, Maryland Attorney General Anthony G. Brown announced the rollout of the Maryland Commission on Hate Crime Response and Prevention. The Sikh Coalition was proud to have supported HB1066, the state-level legislation that provided for the creation of this task force, as well as positioned sangat member Joraver Singh for membership on the task force. We continue to engage on similar task forces across the nation to ensure that the Sikh voice is present in these essential conversations.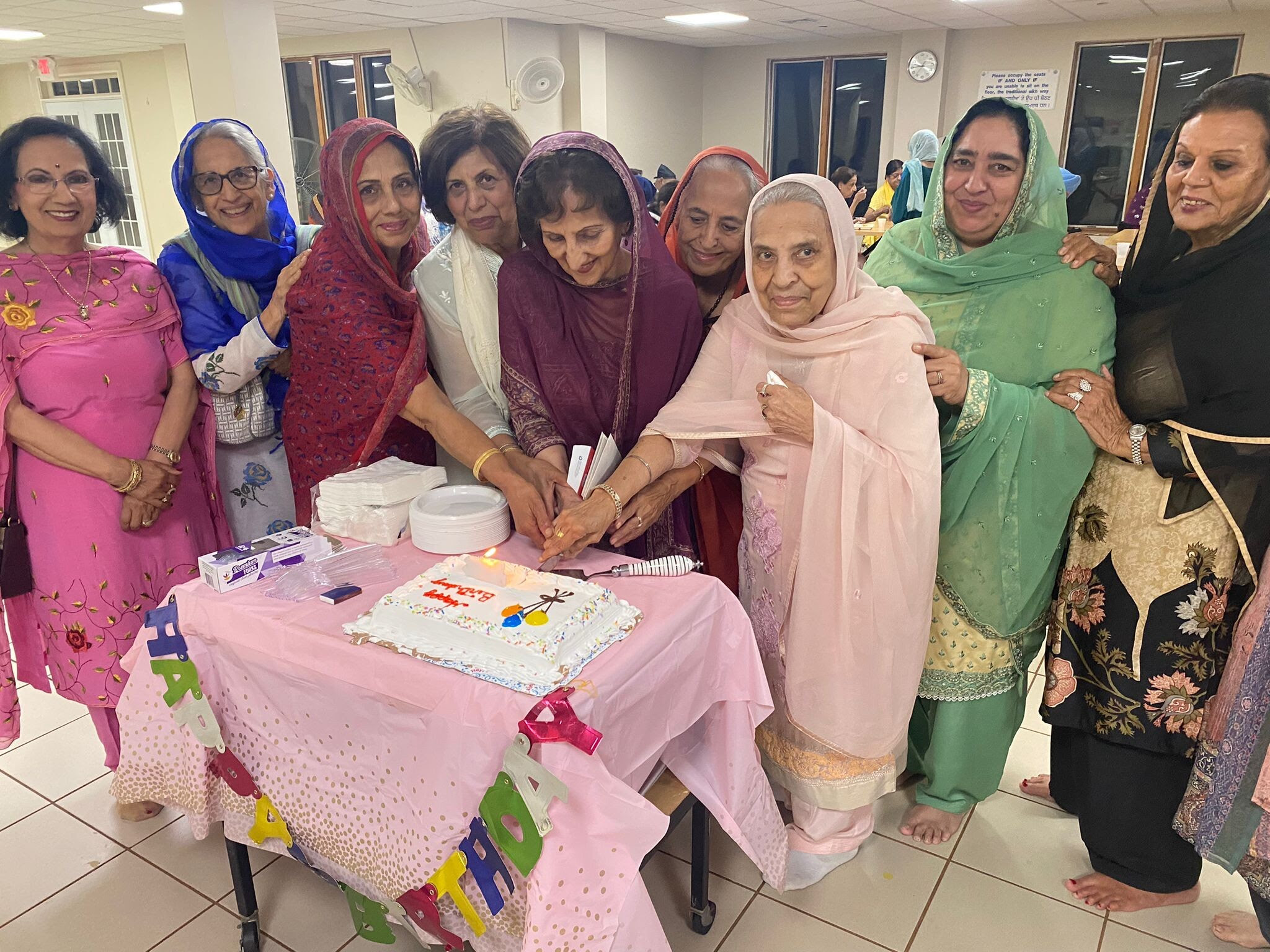 The 10th Anniversary of the Knitting Brigade: On August 11, the Sikh Coalition attended the 10th anniversary of the "Knitting Brigade" at the Glen Cove Gurdwara located in Long Island, New York. 'The Knitting Brigade' is a local gurdwara knitting group that comprises a group of community members that knit and crochet blankets, baby clothes, bags, hats and mittens and then donate them to veterans and group homes. Their latest effort was to send warm wool blankets to the war-torn country of Ukraine. We look forward to sharing news coverage in the coming weeks.
Sikh Coalition Joins Reach Coalition for Retreat: On August 15, the Sikh Coalition joined our partners at the R.E.A.C.H. (Representing and Empowering AANHPI Community History) Coalition for a retreat to discuss next steps in advocating for inclusive legislation to mandate the teaching of Asian American, Native Hawaiian, and Pacific Islander history in New York's public schools. We firmly believe that meaningful representation for our communities starts in the education system, making this legislation a critical step forward towards ensuring that our children see their history, their community, and themselves reflected in public school classrooms. We will continue to share updates and opportunities for sangat involvement and support in advocating for inclusive education; to read more about our work with the REACH Coalition in the last legislative session, click here.
Remembering Oak Creek, 11 Years Later: On August 5, the Sikh Coalition joined Sikhs and others in Wisconsin and across the nation as we paused to commemorate the 2012 attack on the Sikh Temple of Wisconsin in Oak Creek, WI. Eleven years ago this month, a neo-Nazi gunman murdered six sangat members and permanently injured several others in the deadliest act of anti-Sikh hate in U.S. history.
We solemnly remember Paramjit Kaur Saini, Sita Singh, Ranjit Singh, Prakash Singh, Suveg Singh Khattra, and Satwant Singh Kaleka, who were killed in that horrific attack. We also honor Baba Punjab Singh, who passed away in 2020 due to complications related to the injuries he sustained during the attack, and we remain inspired by the perseverance of those who were also critically injured at the time, including Bhai Santokh Singh and Lt. Brian Murphy. On this day of commemoration, we pray for all of these individuals and their families—and we are grateful to the entire Oak Creek sangat, which sets a powerful example of resilience for the entire nation.
The Sikh Coalition Team is Expanding! As part of our efforts to strengthen and expand the work we do to serve the nationwide sangat, we continue to grow our team: As the largest Sikh civil rights organization in the country, we now have 20 full-time staff with additional hires still on the way. Over the past few months, the Sikh Coalition has hired five new full-time staff members, promoted existing colleagues into key roles, and added additional expert capacity to our Board of Trustees. For more about these exciting developments, click here.
Additionally, we are still hiring for a Senior Education Manager, Senior State Policy Manager, and a Media and Communications Director. Applications will be reviewed on a rolling basis.